Welcome to The Mental Health Association of South Central Kansas
We exist to empower and assist youth, families and adults in South Central Kansas to achieve optimal mental health and wellness through education, advocacy, and service. With your help, we can make a difference. MHA seeks to intervene, treat, and educate those throughout south central Kansas in the many forms that mental illness takes among our families and friends, while doing all that we can to remove the sigma too often associated with mental health.
MHASCK is a proud affiliate of Mental Health America.
Please click here to view our Patient Privacy Notice.
Adult Psychosocial Team Meets High Fidelity
Bethany Lippe on 11/07/2014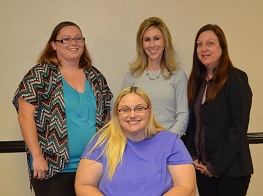 Congratulations to our Adult Psychosocial team for attaining high fidelity in the Illness Management and Recovery program. This is huge for MHA because our consumers are getting the best curriculum and support to help them make progress in their recovery. Some of the comments made from consumers at the review; "They are really positive," "They encourage us to do the best we can," "They are polite and they care," "They are really supportive," "They let you know you can feel free to come to them if you are having problems," "I know I can get extra 1 on 1 support if I need it," and "They tell me they want to see me grow." Congratulations again to the Adult psychosocial team in this great accomplishment!