Welcome to The Mental Health Association of South Central Kansas
We exist to empower and assist youth, families and adults in South Central Kansas to achieve optimal mental health and wellness through education, advocacy, and service. With your help, we can make a difference. MHA seeks to intervene, treat, and educate those throughout south central Kansas in the many forms that mental illness takes among our families and friends, while doing all that we can to remove the sigma too often associated with mental health.
MHASCK is a proud affiliate of Mental Health America.
Please click here to view our Patient Privacy Notice.
Toy Drive
Bethany Lippe on 11/14/2014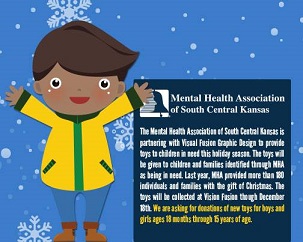 MHA is proud to announce a new partnership with Visual Fusion Graphic Designs who will be hosting a Toy Drive on behalf of MHA as part of the 2014 Adopt a Bell Drive. Toys can be dropped off at Visual Fusion Monday - Friday 9:00 to 5:00. Visual Fusion is conveniently located at 623 West Douglas.
Thank you Visual Fusion for your support!