Welcome to The Mental Health Association of South Central Kansas
We exist to empower and assist youth, families and adults in South Central Kansas to achieve optimal mental health and wellness through education, advocacy, and service. With your help, we can make a difference. MHA seeks to intervene, treat, and educate those throughout south central Kansas in the many forms that mental illness takes among our families and friends, while doing all that we can to remove the sigma too often associated with mental health.
MHASCK is a proud affiliate of Mental Health America.
Please click here to view our Patient Privacy Notice.
Elder Abuse Conference
Bethany Anderson on 06/24/2016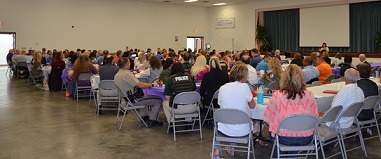 Throughout our community, abuse and neglect of seniors goes largely undetected. The true number of elder victims is largely unknown, due to lack of education and understanding of the signs of elder abuse and underreporting by the abused for fear of retaliation. It is estimated that only 1 in 15 cases are reported to authorities. In Sedgwick County alone there are more than 63,000 individuals over the age of 65; national estimates would indicate that more than 6,000 of these seniors are being neglected or abused today. Financial abuse of seniors is the most underreported of all crimes with estimates of 15% of older adults facing financial victimization each year.
Through education and awareness, we are trying to change this. The MKSO program in conjunction with the TRIAD council hosts the annual Elder Abuse Conference in May. This year's event was held at the Sedgwick County Extension office where more than 160 law enforcement, social workers and seniors gathered to learn more about fiduciary crime, technology safety, community resources, investigation and prosecution of crimes.