Welcome to The Mental Health Association of South Central Kansas
We exist to empower and assist youth, families and adults in South Central Kansas to achieve optimal mental health and wellness through education, advocacy, and service. With your help we can make a difference. Our website provides ways for you to learn about our agency and how to get involved. Thanks for visiting. Your support is appreciated.
MHASCK is a proud affiliate of Mental Health America.
MHA Announces New CEO
Bethany Anderson on 06/12/2017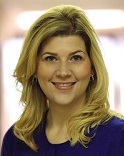 The Mental Health Association of South Central Kansas is proud to announce that Ms. Mary Jones, LCMFT, LCAC has been selected to serve as the new President/CEO. Ms. Jones comes with a great deal of experience and a great understanding of MHA, the needs of our community and those individuals who are suffering from the effects of mental illness. Ms. Jones has more than 20 years of experience at MHA and working with individuals throughout our community. Most recently, Ms. Jones held the position of Senior Director of Outpatient Services, where she grew the program from just a few therapists to serving more than 4,000 individuals throughout our community with three service locations. We are delighted to have Ms. Jones as the President/CEO.