Addictions Treatment Staff
Alyssa Porter  LMSW, LAC- Alyssa graduated with a Master's Degree Social Work from Newman University in May 2015. Alyssa is dually licensed in social work and addictions counseling.  Alyssa has previous experience working in outpatient substance abuse treatment as well as 2 ½ years of experience as an addictions counselor at El Dorado Correctional Facility. Through this experience she worked with incarcerated offenders and helped them transition their substance abuse needs and services back into the community upon release from incarceration.

Andrew Mills, LMSW graduated from Newman University. Andy worked with adults in a community mental health center for five and a half years. Andy has experience in working with adults with Severe and Persistent Mental Illness, depression, anxiety, thought disorders, and personality disorders. Andy has experience in Cognitive Behavioral Therapy, Motivational Interviewing, Solutions Focused, and Systems Theory. Andy's past experience includes working with children in foster care and doing in-home family preservation work. Andy's interests including working with people experiencing depression, anxiety, psychotic disorders, attention deficit, and anger management. Andy has facilitated group therapy in addressing grief and loss issues and anger management. Andy is looking forward to becoming a Batterer's Intervention Facilitator.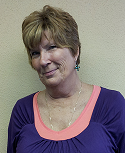 Connie Bucy, LSAC, LAC, has worked in the substance abuse field for 35 years and has seen many changes. Besides working with those addicted; she does a lot of work with families of alcoholics to include children and adult children of alcoholics and codependents.  Even after 35 years she continues to have a passion for her work and client growth.  For fun she enjoys reading, hiking, and spending time with friends.  She has been an avid horseback rider and dancer.  She has a special interest in Native American culture and spirituality as reflected in Native American articrafts which she says is her therapy. Connie is now a therapist for the Addictions Treatment Center at the Counseling Center.

Drue Van Clief, KCPM started with MHA 8/1/14 as Peer Mentor part-time in Substance Treatment. Drue retired from Comcare-Community Support Services in March 2014 after six years as a full-time Case Manager on the IDDT team. Before working at Comcare, Drue provided attendant care full-time to our adult MHA clients for almost five years. Drue was previously employed with DCF for almost ten years as Program Technician and also Economic Assistance Case Manager.

Elizabeth Biltz, LMSW graduated with a Master's degree in Social Work from Wichita State University in 2013. Elizabeth has worked in various positions with local social service agencies including community mental health services and child welfare. She has experience facilitating group cognitive behavioral therapy with parents of teenagers involved with the legal system. Elizabeth's interests include depression, relationship issues, grief and loss, and issues related to transitions. Elizabeth recently joined the Dialectical Behavior Therapy (DBT) team.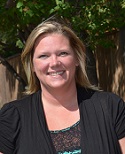 Shawna Allen, LMSW, LAC:    Shawna worked in the early childhood education field for 7 years and then transitioned into case management with children for 4 years in the Mental Health field.  Shawna then took a position working with the homeless who were identified to have mental illness and substance abuse.  Shawna has worked with the co-occurring population for the past 8 years.  She has also specialized in traumatic brain injuries and crisis intervention.  After graduating from Newman University with her Master's in Social Work, Shawna took a position with the Mental Health Association as the Program Director of the Substance Abuse program.