Newsroom
Thank you School Drive Donors!
Posted on 09/01/2016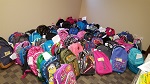 Thanks to the generosity of our donors who participated in the annual BACK TO SCHOOL Drive, we were able to provide 98 brand new backpacks filled with required school supplies for children in our community. We are so appreciative of our partners and volunteers who donated to this initiative and helped our kids start back to school on the right track.
A special thanks to our Corporate Supporters!
- Professional Engineering Consultants
- UCI
- Wichita Country Club
- ProFillment, LLC