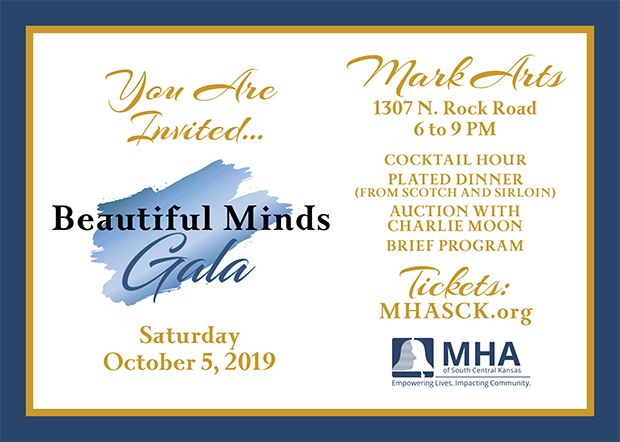 Beautiful Minds Gala 2019
Mark your calendars for our 2019 gala! An elegant evening to support an incredible organization that has been serving the mental health needs of Wichita for over 60 years.
Every year, 60,000 people just in the city of Wichita need mental health care, but do not receive it. The 3rd annual Beautiful Minds Gala at Mark Arts is held to remind us all that no one remains untouched by mental health issues. With an elegant plated dinner, musical entertainment, and fantastic auction items, MHA raises funds to ensure that many of our 35 programs can continue to be provided to the public at no cost. Whether for children, seniors, veterans, or families, our community relies on organizations like MHA to provide access to the resources that serve ourselves and our loved ones. We look forward to seeing you there!
When:
Saturday, October 5
6:00 - 9:00 p.m.
Where:
MarkArts
1307 N Rock Rd, Wichita, KS 67206
Tickets Available by visting Eventbrite; click here