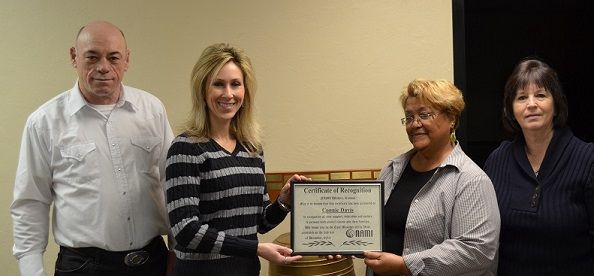 Connie Davis, Mental Health Association of South Central Kansas Adult Case Manager, was recognized by the NAMI of Wichita as Case Manager of the Year in 2014 for her efforts supporting recovery with the people she is serving in her position with MHA. The award was presented to Connie at the NAMI Wichita meeting held on December 2, 2014. Connie was recognized for her tireless effort and advocacy in helping people secure needed resources and supporting independence and acceptance into mainstream activities such as education and employment.
Connie has worked for MHA as an Adult Case Manager for over fifteen years. She credits her success to the support of MHA administration and staff, and to her faith and religious convictions. Connie says she has always been guided by the MHA mission statement which is "to empower and assist youth, families and adults in our community to achieve optimal mental health and wellness through education, advocacy and service".
NAMI Wichita is the local chapter of the National Alliance on Mental Illness and is a non-profit organization dedicated to improving the lives of people with mental illness and brain disorders. NAMI Wichita provides family support groups, educational programs, advocacy and supports research for brain disorders.
We are so proud of Connie's accomplishment!!