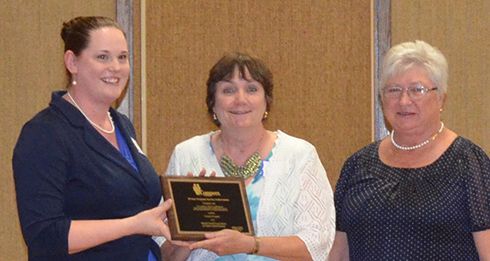 We are delighted that Compeer is celebrating 30 years of service to our community. It is through the hard work and dedication from our volunteers that we have been so successful for the past thirty years.
Our volunteers are an amazing group and we honestly could not do this without them. In 2014, these individuals provided more than 7,400 hours of volunteer service to more than 400 individuals in Sedgwick County alone. Each year, the Independent Sector puts a monetary value on volunteer time that, this year, equates to $23.40 an hour. That means that these volunteers have brought a value of nearly $175,000 to the program. But there is no way to place a value on the impact that they make in the lives of those that they mentor, their families and the community as a whole.
Compeer is a program of the Mental Health Association of South Central Kansas (MHA) and an affiliate of Compeer, Inc., a national mentoring organization. Compeer matches caring, qualified and trained volunteers with individuals served in one-to-one friendships and small groups. In 1985 the Mental Health Association of South Central Kansas launched the Adult Compeer program and expanded services to include Children's Compeer in 1991. The Lunch Buddy program was established in February, 2001 and currently serves children in approximately 20 schools. Compeer Community Outreach Socialization and self-help peer support groups were initiated in the Mid-90's. In 2010, Compeer volunteers began visiting various homeless shelters, offering friendly visits on a regular basis. The Vet-to-Vet Compeer Support program began in 2014 to provide supportive friendships between veterans, including those transitioning from homelessness.
Compeer is a "no-fee-for-service" affiliate of Compeer, Inc. and is recognized as an Evidence-based Program in the National Registry of Evidence-Based Programs and Practices (NREPP) by the Substance Abuse and Mental Health Services Administration, a branch of the U.S. Department of Health and Human Services. Compeer utilizes Best Practices of Mentoring to provide much needed support for children adults with mental illness to help them reach their maximum potential to live happy, healthy and long lives. Best practices include thorough mentor screening, training, mentee screening, goal setting, expectations, confidentiality, volunteer recruitment and retention, program policies and procedures, risk management, matching and monitoring processes, evaluations and closure process in place.
Wichita Compeer is a Gold Star mentoring program of Kansas Mentors under the Kansas Department of Education which is reserved for the most qualified and successful mentoring organizations statewide. Wichita Compeer has received awards from Compeer International for outstanding leadership, volunteer recruitment and innovative ideas. In 2010, the Wichita Police Department recognized Wichita Compeer for outstanding contribution to the community. Wichita Compeer is CARF Accredited (Commission on Accreditation of Rehabilitation Facilities).
Our longest friendship match reached 25 years and there are many that have surpassed 15 and 20 years. Wichita Compeer has served thousands of children and adults over the past 30 years through the power of friendship of many dedicated volunteers and mentors and is looking forward to the next 30 years!