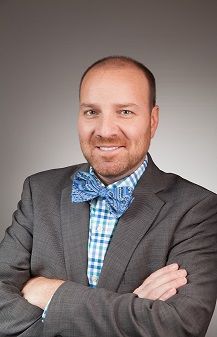 The Counseling Center @ MHA is delighted to announce that Daryl Handlin has joined our staff as Clinical Director of Outpatient Services!
Daryl has undergraduate degrees from Wichita State University and holds a Master of Arts from The University of Chicago School of Social Service Administration where he completed a clinical concentration in evidence-based practice and older adult studies. He is former President of the Kansas Chapter of National Association of Social Workers (NASW) and served on the 2011 Delegate Assembly Peace and Social Justice Committee. He was featured for innovative approaches in the 2009 Office of Justice Programs Annual Report to the United States Congress and the President. He is a member of Sedgwick County Crisis Intervention Team Council and is an instructor for associated trainings for first responders and law enforcement. He is a member of NASW and Crisis Intervention Team International. He is also a Board Member for the Wichita Chamber Chorale. Daryl has a broad range of experience in mental health and addictions with all ages and backgrounds.
Daryl believes that ''Many a false step is made by standing still'. I believe change is possible when we channel our personal strengths, interests, and talents to build momentum for results that last. The above-mentioned Asian proverb inspired me to make changes and move forward in my life and career. An individualized approach to change can help others reach the results they are seeking."