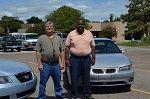 Sean and Larry (pictured above) have come along way in achieving recovery. As participants in the Supported Employment Program they have been able to find and sustain competitive employment for several years. Now they have each completed another goal, one that leads to greater independence; they have been able to purchase their own vehicles. They both worked with their employment specialist to set up a PASS Plan and paid cash for their vehicles earlier this summer.
The Supported Employment Program at MHA focuses not only on Employment as a primary recovery goal, but also on increasing independence. Sean and Larry (pictured above) have both participated in the Supported Employment program for several years. Both attained employment which they have sustained for several years.
This summer Sean and Larry were both delighted when they were able to purchase their own vehicles. After setting up a PASS (Plans to Achieve Self Sufficiency) Plan through the Social Security Administration they were able to save enough money to purchase their vehicles in cash. Sean indicated that he had not driven in more than 20 years. Although it had not been as long for Larry, it had still been quite some time!
When asking them what they plan on doing with the increased independence, they both stated that having a car will support them on getting to necessary appointments on time as well as getting to and from employment. They have also found that their increased independence has enabled them to participate in more recreational activities and spend more time with friends and family. They have worked incredibly hard on this project and now have another tool they can use to support a positive recovery.