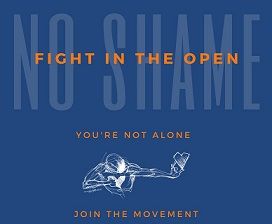 For 60 years the Mental Health Association of South Central Kansas has worked diligently to break down stigma and encourage people to seek services for their mental health symptoms. While we have made many greats strides in reducing stigma, mental illness is still one of the most stigmatized of all diagnosis. Today we are asking you to help us fight stigma.
Join us breaking down the veil that surrounds mental illness by Fighting In the Open! Talk about mental illness. Please know that you ARE NOT ALONE.
A portion of the proceeds for the Fight In the Open t-shirts will go to MHASCK to support the vital programs that our agency provides to more than 10,000 in our community each year.
https://www.booster.com/mentalhealthamerica?external_type=mha-2017&external_id=67208-3673